I've talked about individual pieces that are in the field kit before, including the USB Rubber Ducky, and the LAN Turtle.  The Field Kit has both of those, plus lots more.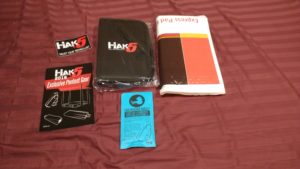 We'll start with the stylish zippered case.  It has the "Hak5 TRUST YOUR TECHNOLUST" logo on the front.  There is also a key ring tag that says "REMOVE BEFORE FLIGHT" on one side and "TRUST YOUR TECHNOLUST" on the other.  I have this attached to the zipper for every day carry use.
Inside are several elastic straps sewn into each side and on the spine.  These are positioned to hold various items neatly in place.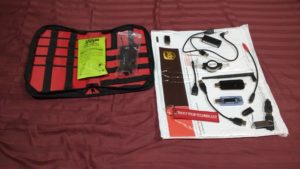 The kit includes a DVB-T+DAB+FM USB SDR radio receiver with magnetic mount antenna. I already owned two of these due to my HAM Radio hobby, so having an extra is nice.  This can be used in conjunction with GNU Radio (or other software) to receive and decode various signals and digital modes.
It includes a LAN Turtle and USB Rubber Ducky (with all Ducky accessories) which I also already had one of, so spares are nice.
There is a non turtle USB Ethernet Adapter, as well as a USB wireless adapter (with antenna.)  These help provide a little extra networking on the go, if needed.  They are especially useful in conjunction with a WiFi Pineapple (Nano or Tetra) which did not come with the kit I purchased, but is often an option that can be included.
There is also a USB multi meter for checking voltage/amp and other readings for a USB socket, as well as analyzing how much draw you are generating with your peripherals.  If you're drawing too much, you'll want to get a beefier power source for your gear, so it's good to keep an eye on these things.
Finally, an assortment of cables and adapters for USB (including a micro USB to micro USB OTG cable, and self winding Ethernet cable) round out the mix.
I've added the battery pack from my WiFi Pineapple Nano to the kit, but the Nano itself stays in its own holster outside of the kit.  This way I don't accidentally take it to work with me.
The kit normally cost around $170 when I bought it, but that kit is no longer available on the site, and I got it at discount when they ran the "Mr Robot" special for the USB Rubber Ducky cameo that aired on that show.
There are several kits available on the shop at this time, and this is the closest one to what I have, but it contains a lot more gear and is priced a bit higher because of it.  If you add up the cost of components bought separately, it's still a good deal, and looks like it's on sale today.  That may change in future.
It's well worth the money if you can afford a kit and want some goodies for your lab.  If the link above is dead by the time you get to this, and I haven't noticed and cleaned it up, here's the link to their shop with all the various kits that should be available.